We are truly living in an age where there is always something new on the market that years ago would have been inconceivable. Some of it can be considered to be stuff of science fiction movies or even 007 fantasy.
I got an email today  introducing me  to what could be considered cutting-edge new face recognition technology, at least to the average bloke on the street. Anyway, it is now possible to access your PC as well as logging into Facebook, Amazon & your other favorite websites using only your face. Sounds too good to be true doesn't it, but the email from the guys at CyberLink.com – CyberLink Official Website, tells me they have a program that can do just that. It works by using your computers webcam and so I reckon most people these days could take advantage of it if they so desired.
Here are some of the features that you get with their revolutionary YouCam 5
!
Use new Face Login to access your PC as well as Facebook, Amazon & other sites
Play with Augmented Reality, avatars, special effects, gadgets and more
Enhance all your webcam videos with with TrueTheater™ Technology
Create effective presentations and tutorials with a wide range of productivity tools
Download unlimited FREE special effects from DirectorZone
Here is an introductory video for YouCam 5
I haven't availed myself of this product yet but I do own CyberLink's PowerDirector
video editing software and I am more than happy with it's capabilities.
So, back to YouCam 5, does this sort of thing interest you? Also, after my post on Identity Theft do you think that perhaps something like this would increase your online security?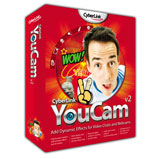 The
FlexSqueeze
Theme gives my blog that professional look. I loved it so much that I bought the developers license. It's the easiest most customizable theme I've come across. See how easy it is to change your
theme's appearance
! Compare it to
Thesis
to see how much better it is! Check out some of the latest
Latest Updates
I highly recommend you to get your
FlexSqueeze
copy today!
Didn't Find What You Were Looking For? Search WassupBlog Now!
Loading
Copyright secured by Digiprove © 2011
JVZoo Killer WordPress Plugins.
Tagged with: CyberLink • software • technology
Filed under: General • Reviews
Like this post? Subscribe to my RSS feed and get loads more!